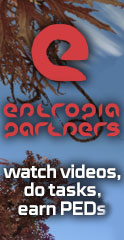 Click Here to Register.
Here's how to watch videos ads and earn PED.
1) Register with the link above or below
2) Select the icon, Other Offers vidoes, surveys, CPA
3) Select Open Offer Wall
4) Select as many EngageMe.TV your computer can handle.
5) Open the videos in separate browsers
6) Run the ads 24/7 and earn 0.04 PED per segment
7) Insure power saver is off on your computer
With two ads running you can earn approximately 0.04 pec every five minutes.
Collect PEDS in game Entropoia Universe
Click Here

Click Here to Register